The worker cooperative Decosur has two neighboring plants located in the port of Dock Sud, and together they have a fuel storage capacity of 39,000 m3 distributed in 42 tanks of various sizes and characteristics.
The tanks are interconnected through pipes, and they are also connected to the wharves of the port of Dock Sud and to other neighboring plants; this allows the cooperative to receive fuel from and dispatch fuel by ships or trucks in a quick and efficient manner.
Competence, efficiency and strategic location
The plants work with many products but their main activity is related to fuels like gas oil, gasoline, and fuel oil, being the cooperative a service provider to the main companies in the energy sector that operate within the country.
Plant No. 1 operates as fiscal tanks due to the license granted by the Dirección Nacional de Aduanas [Argentine customs office], thus facilitating our client´s import and export operations.
The main competitive advantage of the premises lies in their capacity to operate, in their efficiency, and in their strategic location with access to a port, roads and railways, only just a few minutes away from the City of Buenos Aires.
Port of Dock Sud
It is located five minutes away from the City of Buenos Aires heading south. It is the main port in the Province of Buenos Aires due to the economic transactions carried out there. The port represents a point that connects the river, roads and railways, and has access to the whole waterway.
It was built to operate mainly with hydrocarbons and within its boundaries we find the main petroleum companies that operate in the country since the port´s premises and logistics have been designed to such effect. .
The cooperative has Direct acces to the D,E and F Docks that are located on the main chanel which is approximately 28 feet deep.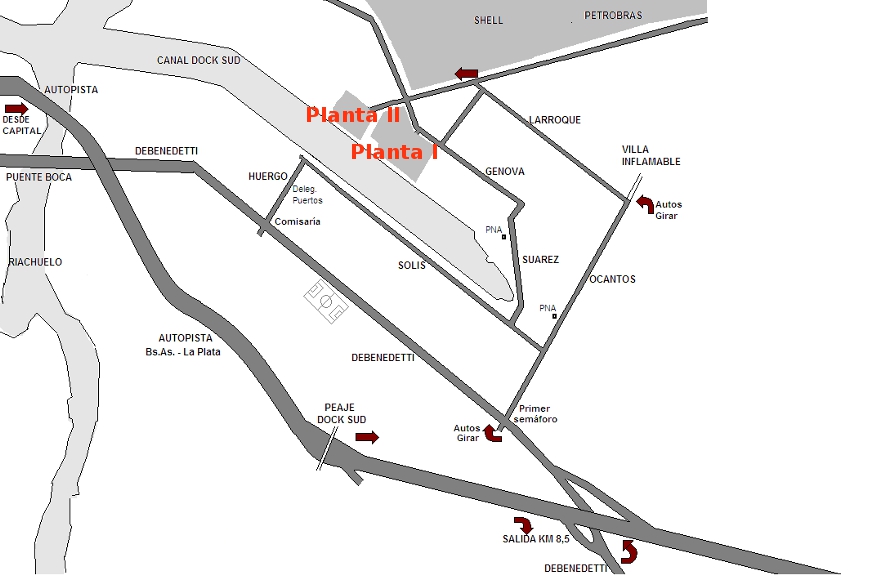 From the City of Buenos Aires
BY CAR: take the second exit after the toll post of Dock Sud (Km 8.5). Turn onto Debenedetti towards the bridge of La Boca.
Turn right onto Ocantos street (first traffic light) (there is a yellow concrete block). Keep driving on the asphalted street and turn on Larroque street; when you find a wall of a Shell service station, turn left and keep driving towards the Plants.